About Us
FIBandCO was born in the French Caribbean out of the observation that an alternative of wood was necessary
Every year, 32 million acres of natural forest disappear (34 soccer fields per minute)
WHILE
24 million acres of banana trees are available globally and fully renewable twice a year.
Banana trunk veneer was born after years of R&D, starting from "garage engineering" to the creation of FIBandCO that developed a patented technology in the core of a socially responsible supply chain.
Why the banana trunk and how?
To use a new beautiful "species" for the design world. Because it is a giant grass and not a tree – less deforestation.
Banana plants are rapidly renewable; they grow to full size every 9 months. Naturally, once bananas have been harvested the mother trunk decomposes as agricultural waste.
To make a Green Blade® veneer we buy the unwanted trunks from the banana farmers. The next generation can then grow, and this process continues for many cycles.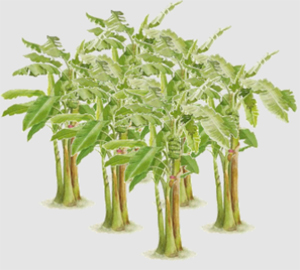 Why is it more renewable and responsible?
🌱  It creates synergies between the banana fruit growing and the valorization of the banana trunk fiber.
🌱 It is agricultural waste that is bought to the farmers providing them extra incomes. FibandCo connect the agricultural world with the design world while preserving our forest but still offers a detailed exotic esthetic in a sustainable way at an acceptable price for the market.
🌱 Our factory with solar panels that provide the majority of the energy it needs is located in the middle of the banana farms to reduce carbon footprint and process trunks directly from the field to the factory.
🌱 No water is used in the manufacturing of Green Blade®. No glue is used in the manufacturing of Green Blade®.  It is 100% natural and recycled.
🌱  It is a suitable solution for people whose sustainability is in the core of its concerns and strategy.  Green Blade® is a good way to contribute to make our planet green again.
🌱 Very log carbon foot print, our range allows you to gain LEED credits for your project.  Green Blade® is the most sustainable natural exotic vener on the market and is produced implementing a strong CSR strategy.
Harvesting time of trees for natural wood veneer production:
Banana tree – 9 months
Bamboo – 5 years
Eucalyptus – 15 years
Beech – 40 years
Teck- 70 years
Oak – 80 years